I moved to Las Vegas from Iowa about eight months ago after over 60 years in the Midwest, specifically Chicago and Des Moines. Las Vegas was attractive due to the weather, the opportunity, and a desire to better understand the spirit of Vegas. To me Vegas is a great "Truly American" city with an automobile culture, suburban sprawl, etc. I first heard of Las Vegas from my father, a World War Two Marine Veteran who fought in the Pacific. He loved a good card game, idolized the "Rat Pack", and Las Vegas was his fantasy vacation. After a decade of waiting, my dad was finally able to catch a round trip "junket" to Vegas for a few days. That trip to Las Vegas economically affected our family of six for almost the next decade. To cover his gambling losses in those few days, we were forced to sell our house and downsize.
My next exposure to Las Vegas came a few years later, while a junior at Iowa State University studying architecture. I was fortunate to have a young enlightened architectural history instructor, Richard Guy Wilson teaching my introductory course. The ISU job was his first after finishing his graduate studies and he would later become a national figure in the field of architectural history. Professor Wilson introduced us to the seminal work: Learning From Las Vegas, written by Robert Venturi and Denise Scott Brown, two Yale professors and practicing architects. If you're not familiar, the book is the culmination of a Yale graduate studio study that made several trips to Las Vegas and published their findings in the early 70's. Ada Louise Huxtable, an architectural critic for The New York Times noted:
"I will go clearly on the record by saying that I think these studies are brilliant. Their insight and analysis, reasoned back through the history of style and symbolism and forward to the recognition of a new kind of building that responds directly to speed, mobility, the superhighway and changing lifestyles, is the kind of art history and theory that is rarely produced."
I will save further observations on this influential work for possible future blogs, particularly as it relates to the evolving Vegas of today.  After reading this work, I began looking at Las Vegas in a whole new light.
After graduating from ISU, I spent the next few years working for architectural firms, getting married, and finishing a graduate degree in Houston. In Houston, I experienced another sprawling metropolis. A better job and the birth of our first child brought us back to Des Moines, where I practiced architecture and began teaching architectural design at Iowa State University. This academic experience and connection reignited my desire to better understand Las Vegas, suburban sprawl, our fascination with the automobile and its effects, and urban renewal efforts around the country.
During the next several decades, I found myself again attracted to Vegas as a frequent tourist. I was always amazed at the rapid growth since my last visit. My trips increased in the 80's and 90's, timed to experience the latest and greatest "Strip Entertainment". Whether it was the Volcano at the Mirage, the pirate ship battles at Treasure Island, or Bellagio's fountains, they never disappointed. During a pivotal trip in the late 80's, as I was walking along the Strip taking all the sites, I was reminded of my only trip abroad; a ten-day tour of Italy. Here, on the crowded Las Vegas strip, I felt like I was in a pedestrian friendly defined urban environment similar to the feelings I had when first walking the streets of Rome or Florence. The Boulevard was wider than Italian streets and instead of four or five story palazzi, there were 40 or 50 story hotels; but the urban space had edges that defined it. The Vegas Strip environment also has street entertainment and fountains; like the Italian streets and plazas I first experienced.
Upon returning to Des Moines, I shared my opinion with a colleague of mine. My friend identified himself with the "Star Architects" that came to our flyover part of the country and to Iowa State University to give lectures and lecture us on what a "CITY" should be. Needless to say, he was adamant in arguing against my observations. When, a few months later, "Architectural Record", a respected professional journal, devoted nearly a whole issue comparing the Las Vegas strip to 15thCentury Florence, he was still unconvinced. His loss.
As I close in on my first year in Las Vegas as a new permanent resident, I have no regrets. I am looking forward to the years ahead and would like to summarize some of my initial impressions. In preparing to move here, I spent the last several years talking to different architectural firms, looking for the right fit. I wanted a socially and environmentally focused firm and I found that in LGA Architecture. Their hearts are in the right place. They have a passion for what they are doing and are a great group to collaborate with. They have designed some of the best venues "off the strip". Two of these very successful projects are the Mob Museum and the Children's Discovery Museum. These projects and the many other amenities Las Vegas has to offer, are compelling evidence that there is much more to Las Vegas than the "Strip." With LGA, I look forward to exploring the right solutions for this growing community and contributing to what Las Vegas can become in the next several decades.
Lastly, I moved here in August of 2019, an August I've been told was one of the hottest on record. In late August I was sharing with one of my grown children that when I went to get into my car at the end of the day, the car's thermostat showed the outside temperature at 128 degrees. Fortunately, after driving a bit, the temperature cooled to the actual air temperature of 117 degrees. After experiencing both humid summers in the Midwest and the high humidity of Houston, 117 degrees with minimal humidity is a lot more comfortable than 97 degrees with near 100% humidity. It's not the heat, it's the humidity.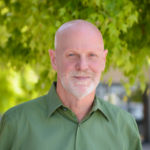 Robert "Bob" Olson is a Project Manager at LGA. Combining nearly 40 years of architectural & planning experience with over 15 years of real estate valuation experience, Bob is both a Register Architect and a Certified General Real Property Appraiser in the state of Iowa. As an architect, Bob has been involved in almost all building types of all sizes, functioning as a Project Architect, Project Manager, and Project Designer. He's successfully completed projects in Iowa and a half dozen other states as well as in Mexico and the Middle East. He moved to Las Vegas in July of 2019 and looks forward to getting involved with worthwhile causes in the Las Vegas area.