I like camping, hiking, and other outdoorsy activities. So, on Labor Day weekend 2018, my Mom, 5 gal pals, and I headed to Great Basin National Park. The drive is only 4.5 hours from Las Vegas northbound on Highway 93. We were ready for an epic adventure, with our arrival to camp estimated around 7pm. I should not have been surprised, however, when we failed to embark on our journey at a reasonable hour and found ourselves driving late into the night.
It must have been about 10:00pm when we passed Pioche, NV. At roughly the same time, a twinkling light in the night sky diverted my attention from the solitary pair of headlights streaming out in front of us. I knew I had to pull over immediately. You see, a few of my friends had never been out into rural areas like this, where true darkness can be experienced. Everyone stepped out of the van and looked up. We were rewarded with stars, and not just a few. The Milky Way was in grand display! I have many amazing memories from that trip, but this is the one I most often revisit – Standing in silent awe with my friends and family, the faint blue light of the distant moon faintly illuminating our surroundings and the silence as we experienced the splendor of our world and the space beyond us. That memory still fills me today with awe and humility.
In the city, our city, the light is ever present. We have 294 days of sun and Las Vegas was recently designated the brightest city in the world by National Geographic. The skyglow can be seen for miles in all directions. Finally, on the side of the 93, our environment was no longer bombarded by the excess of photons to which we've grown accustomed.
The next two nights at Great Basin National Park were spent reveling at a sky blanketed in stars. The park is particularly good for viewing the night sky and has the distinction of being a Dark Sky park. If you are not in the know about Dark Sky places, I highly suggest a visit to the International Dark-Sky Association website. They are a conservation group that provides resources to locate and preserve Dark Skies and works with manufacturers to create Dark Sky-friendly fixtures. Their website also provides resources on how we can combat light pollution in our homes and communities.
Alexia and myself are drawing upon this experience on a current project, the Frias Frontier Camp for the Southern Nevada Girl Scouts. Working with local Nevada lighting representative Jeff Frazier, we are selecting and implementing appropriate fixtures for the rural setting of the camp. We aim to minimize glare, light trespass, and sky glow like this. Not just on this project, either. Community is one of our core values, and taking what we've learned from the Frias Frontier Camp we hope to continue to improve ours by implementing these design philosophies to preserve our night sky, urban and rural alike.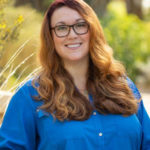 Jaclyn Kidd, Assoc. AIA's interest in accessibility, biophilia, and sustainable architecture sensitive to place, lead her to join LGA in late 2018. She is energized by the culture of LGA and the shared love of Nevada, her home state! She received her Bachelor's of Science in Architecture from UNLV in 2013, while participating as an integral member of UNLV's 2013 Solar Decathlon team Desert Sol. This team went on to take 2nd place internationally. After graduation, Jaclyn Kidd went on to work in commercial architecture and hospitality, developing the technical knowledge necessary to get projects from concept to construction. Jaclyn loves to travel and looks forward to opportunities to geek out on architecture.