You know that as soon as we had this assignment, I was probably planning to write something on the subject of skating. But I saw this super cool video last year that combined figure skating, biophilia, and design, so I have to share it!
A quick fun fact, if you didn't know why figure skating is called "figure" skating, it is because when English people first "invented" the sport on natural ice, they focused on drawing figures on the ice – the figure 3, the figure 8, the S, the C, the Q. Eventually it evolved into more elaborate patterns performed by completing consecutive difficult turns on one foot. Compulsory figures were part of the international competitions until 1988. But enough of history, just watch this cool video and see the lady skate a pattern that she designed herself in a beautiful natural backdrop.
It seems like she exclusively skates outdoors, and hikes miles to get to the perfect ice. Her instagram page is a lot of fun if you want to follow it.
But then I had another thought about this subject while I was waiting for my turn. So I "figured" that I will just combine the two as they are somewhat related (for me).
The Third Place
I don't know if you've heard about this theory. I don't even remember when I first heard of it. It may have been in college when I was an English literature major. The basic idea is that your home is the "first place", your school or work is usually your "second place", and then you have a "third place". The third place offers a different sense of belonging that is different from your home or professional life, but something that defines your identity as an individual.
The most common examples are the coffee shops one likes to hang out in, your church community, your soccer practice, or for this lady above, apparently frozen lakes around the world!
I have been thinking about this a lot since the world shut down a year ago. Because essentially we are stuck in the "first place" doing all the things we usually do in life – our first and second place were both at home, and our third place was literally the grocery stores! People were stressed, depressed and lost, because our identity was reduced along with the environment we experience and the activities we engage in. Since reopening, I went back to the rinks, which is pretty much the only place I go out for (except for now sometimes going to the office). I see my skating people, we do our thing and it's been so great for keeping my balance. It has been my third place probably for a while but I didn't quite realize it until the pandemic hit and I lost it for months.
What is your third place?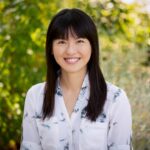 Alexia Chen is a project architect at LGA. She is passionate about creating a better world through the built environment. With a background in visual and performing arts, she has an eye for design, but strives for a balance between aesthetics, functionality, environmental impact, and user experience. Alexia emerges as a natural leader in a collaborative team setting. She excels in setting the project vision, aligning goals with stakeholders, and executing the plans with a team of experts. She joined LGA in 2013 after receiving her Master of Architecture degree from UNLV as an "Outstanding Graduate", a recognition for her leadership as the project manager of the UNLV team which won second place in this Department of Energy international competition. Alexia also received USGBC Nevada "LEEDership Award" and Southern Nevada Home Builders' Association "Outstanding Achievement". She spoke about this project at the National Clean Energy Summit 5.0 in 2012.