As we rang in 2023, LGA began its 37th year in business. Over the years, we have seen tremendous change in our community, the world, and our firm. This will be the 37th time of revealing new goals for the year and reflecting upon the past year.
2022 was an amazing year for the firm. The scale and quality of our work once again elevated, and we are so grateful for our clients who placed their confidence and trust in us. We remain steadfast in creating a positive experience for them in the realization of their projects but also creating a team environment of collaboration, care, and empathy. We are proud that we get to help our clients create great places that ensure they meet their goals.
Which brings me to the goals for LGA:
In 2023, we will continue our work to become the premier life-giving organization that brings life to our community. This means that our work will focus on making our community the best place to live, work, and play. We will engage the community stakeholders to hold us accountable and make sure we hit the mark.
At the same time, we will continually strive to be the best and most sought after place to work, where everyone's contributions matter both in the work and in the firm direction. We will be moving into a new office this spring located in the heart of the Las Vegas Arts District. This new office will provide the opportunity to further embed in our community and to become a resource for connection, dialogue, and work around important issues in our community.
So, from all of us at LGA, we wish you a happy, healthy, and safe new year that indeed meets all of your aspirations.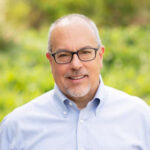 Craig S. Galati is a Principal and Shareholder of LGA. His strength lies in helping his team create memorable experiences through design. Through his passion for workshop facilitation and public outreach, Craig has provided invaluable clarity and direction to multiple public and private organizations. Craig is an accomplished speaker and has worked with many organizations on leadership and strategy.