At LGA Architecture, we have always held the belief that we exist to serve clients. A key component of that service lies in "being of service." During the COVID-19 pandemic, as we watched our clients struggle with closures, loss of revenue, and working from home, we knew we needed to do something. At the same time, LGA was learning how to work from home as well and feeling the pinch of the economy slowing down.
So, we made a decision—we decided to double down on the things that had made us successful; client service, care, and being of service to our clients. It was not the best time for business development but it was the best time to check in with our clients and colleagues to see how we could help. We began discussing with a few clients how best we could help and determined that their world had changed over night—perhaps forever.
LGA's team conducted brainstorming sessions around how we could be most helpful and at the same time ease our feelings of restlessness. The result was to host a series of Webinars and client focused Fireside Chats. These would tap into the issues our clients were facing and simultaneously expose LGA's expertise.
We knew our clients were focused on the daunting task of re-opening and discovering how to build the public trust once again. LGA prepared our first webinar focusing on this topic. We then prepared a client focused Zoom panel in a fireside chat format. The response to both of these events was overwhelming. The invited panelists readily agreed to participate and provided tangible insights that we never could've imagined.
The panelists and the audience inspired us to prepare our second webinar focused on new experiences for re-opened institutions which was also highly received. Based on audience questions and our own independent research, we prepared the next fireside chat which focused on innovative ways to drive new revenue. Following the success of these chats, we then hosted parks and recreation directors and school administrators.
So, what does this all mean?
At LGA we truly believe in being of service to our clients and the community.  We are striving to be the best resource we can be, especially during these times of significant disruptive change. The following are a few things we recommend for all businesses:
Understand what your clients need.
To best be of service to your clients, you must understand the issues they are dealing with to determine if and how you can help. Stay in touch with the clients, research the issues surrounding their industries, and identify areas that may be causing them the most difficulty. Only when you are fully versed can you begin to see if you can really help them. Once you have determined that you have something of value to your clients, run it by them and to see what they think.  Often we think we have something of value to offer our clients, but they are approaching the problem from a different perspective or are working with someone else to solve the issue. Don't worry—you are there to help and engaging them is the best way to mutually determine how.
Keep an open mind.
An open mind is the key to new opportunities.  When it was suggested that we start the webinar and fireside chat series, we had never done it before. It would have been easy to discount the idea and move on to the next, but keeping an open mind allowed us to see the possibilities. We could've easily talked ourselves out of pursuing the idea saying, no-one will agree to be a panelist or no-one will attend the sessions. But all panelists that have been asked to participate have whole heartedly agreed and we have averaged between 50-75 attendees each session. Numbers that are quite respectable.
Keeping an open mind allows you to see other things as well and opens you up to more opportunities. If you take your time and use deep inquiry around every idea, something magical will emerge.
Be flexible.
Just because you think you have a good path forward or a great idea to pursue does not mean you are the only one pursuing it or that the path won't or shouldn't change.  When we first began our webinar series, we intended to create a webinar full of rich content, then follow it up with an expert panel around the same topic, but after two rounds, we determined that the expert panel approach was more beneficial to our clients and the community and we could put them together quicker and be more on topic than the webinar. Our strategy quickly changed to the Fireside Chat series where we could tackle a variety of topics every two-three weeks.
Be flexible in your approach, remember to keep you eye on the goal and let the means and methods change as need be to achieve the results you are looking for.
What is your specific service model?  Can you double down?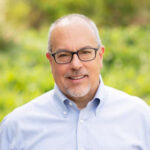 Craig S. Galati is a Principal and Shareholder of LGA. His strength lies in helping his team create memorable experiences through design. Through his passion for workshop facilitation and public outreach, Craig has provided invaluable clarity and direction to multiple public and private organizations. Craig is an accomplished speaker and has worked with many organizations on leadership and strategy.