At LGA, we always strive to make our next project more energy efficient and healthier than the last. Case-in-point, the Clark County Public Works Field Operations Facility was completed and occupied in August of 2018 and is the County's most energy efficient building in their portfolio.
The Clark County Public Works Field Operations Facility is a 52,000 square foot facility that houses the following Public Works Departments: Roads, Streets and Construction Testing Laboratory. This building is operational 24 hours a day, 7 days a week.
The Roads Department uses the facility for providing daily instruction to field crews and contains a limited amount of office space, that for three supervisors and one manager. Daily assignments are issued by the supervisors in a "crew ready" area within the space and under a large canopy area outside. The Streets Department includes a larger office area for managers, supervisors, and support staff. Also included are four large shops with adjacent office areas.  The shops include a sign shop, signals shop, streetlight shop and a road markings shop.  Adjacent to the shops is a 11,500 square foot warehouse. The Construction Management Department has a 5,000 square foot construction testing laboratory with adjacent office space.
Clark County is one of the largest owners of buildings in Southern Nevada and is always concerned with a building's operational cost in addition to initial cost.  At LGA, we focus on both all the while balancing our client's needs.
LGA looked at multiple ways to design for energy efficiency. However, for the sake of this article, we will look at two of these strategies specifically –  the use of thermal mass to reduce heat transfer into the building and the use of daylighting.  These two strategies were chosen to discuss because while both achieved efficiency goals, they also reduced the initial construction cost.
Thermal Mass
The exterior walls of the building consist of insulated concrete tilt-up panels comprised of an exterior skin of 4" concrete, an insulation layer of 3" extruded polystyrene and an interior load bearing layer of 8" thick concrete.  The roof included a minimum thickness 8" of polyisocyanurate insulation.  Without any construction heating and cooling, all of the interior finishing was completed during the late winter, spring and summer of 2018.  The contractor, Martin-Harris Construction, had the advantage of being able to complete this work without providing temporary heating and cooling, resulting in construction cost savings.
Daylighting
The project extensively used daylighting strategies.  The warehouse and shops and a limited amount of office space had 4' x 4' skylights.  The skylight glazing was made up of sealed glass units with the exterior lite being ¼-inch thick clear glass and the interior lite of ¼-inch frosted glass.  The frosted glass provides glare free light below.  The skylights are spaced so that the whole floor area is provided with daylight.  Other areas are provided with windows, curtainwall, clerestory windows and tubular skylights. During the interior finishing of the project  the daylighting was sufficient allowing the contractor to build the interior spaces without additional lighting.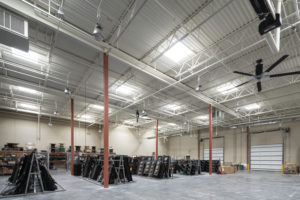 These two simple strategies demonstrate how to design an environmentally friendly and energy efficient building while also cutting cost during construction.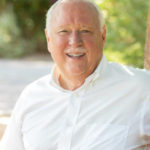 John Lansdell, MSGB, Assoc. AIA received his first degree in Architectural Technology from Ryerson Polytechnical Institute in Toronto, Ontario. John also holds a Master of Science Degree in Green Building from the San Francisco Institute of Architecture, which he received in 2015. He has a wealth of experience in the profession having practiced for over 40 years and is known for his integrity and for his passion for sustainability. He believes true sustainability is where all aspects of a project can continue in perpetuity and not take from the environment. John has authored many articles including, "Harmful Chemicals in Construction Materials," and "Green Design, Sustainable Design, and Regenerative Design." John is a voracious reader and a member of the Construction Specifications Institute. He joined LGA in 2006 and has been the Project Manager on LGA's largest projects.