Do you know what's rewarding? Having a 14 year old student give you a tour through the building you designed for them; and have them tell you why it's special. We got that opportunity a couple weeks ago at the ribbon cutting ceremony for our latest completed project  – The Cristo Rey St. Viator College Preparatory High School located in North Las Vegas.
This was a night filled with everything that makes Las Vegas a special place to live. Extraordinary donors inspired to invest in our future, incredible and selfless educators and administrators, special members and leaders of the community and bright young students who give us all hope. Did we mention there was a surprise fireworks finale? We were thankful and honored to be invited and remembered for our contributions to this special place. 
Whether it was the chapel being described as a soothing and intimately sacred place. The learning stair described as a fun way to sit and catch up with their friends. The classrooms' large windows offering great views of their neighborhoods. Or the flexible lunchroom where garage doors opened and allowed the students to connect with nature and get some fresh air; they loved what we loved about their school. 
We designed these special attributes and architectural details to enhance the positive memories that the students will make from their short time in these halls. Something that we strive to do on all of our projects. But it always feels good to see it written on someone's face. When they're as proud of the finished product as we are.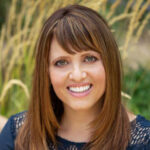 Brittany Bleak leads LGA's strategic marketing initiatives. She holds a Bachelor Degree in Journalism from the University of Nevada, Reno. Brittany is known for always challenging the status quo. She joined the firm in 2013 as the Administrative Manager/Marketing Coordinator and managed the firm's accounting, business management, and marketing and assumed the Marketing Director position in 2016. Brittany is active in the Society for Marketing Professional Services serving on the SMPS Las Vegas Board of Directors for eight years. She was SMPS Las Vegas President in 2014 and currently is the Director of Communications.