After the infamous year of 2020, we have so much to be grateful for and reflect back on. From sweet songs that have touched our hearts, to YouTube videos filmed from the quaint homes and backyards of the world. We remembered compassion while loving parents reached into the deepest and honest levels of empathy for our children's teachers who have learned to teach from their converted dining rooms.
In a little over a year's time, I have realized I have an addiction; one that I never saw coming.
It started out as a meaningful pastime, a sense of purpose for minutes to pass in January 2020 while spending an extended visit in Arizona. It then became more important to me to make time for these folks as I invited them into our Airbnb. They helped pass the time and made what we thought would never end, a trial we did not want to bear, more comforting. These celebrity renovators have now actually become my TV friends I simply enjoy sharing time with. I became an addict of HGTV.
Some of you may know a few of my favorites:
Chip and Joanna Gaines from Fixer Upper (Magnolia Network)
Ben and Erin from Home Town
Alison Victoria from Windy City Rehab
Mike Holmes and MJ from Holmes and Holmes
They have all become part of the time we needed then, that evolved into the crazy pandemic pastime. They have inspired personal home projects, instilled confidence in each other and developed friendships knowing they will be building, creating and fixing yet again, another home remodel tomorrow. Each of these teams have helped create an escape and allowed me to record or not record an episode whenever I have time. I am not one who sits to watch TV, but these shows are now part of my creative time.
Ben from Home Town has become one of my favorites, sharing his woodworking skills and unique relationships with craftsmen all over the world. One of his longtime friends is a woodworker from Mississippi who builds custom rocking chairs. Greg Harkins, an artisan, has made custom rockers for many of our US Presidents like Ronald Reagan, Jimmy Carter, Bill Clinton, and both George Bush Sr. and Jr.
"What is like a religious experience," he says, "you take a totally raw material, and go from the time it's a living, breathing standing tree, until it's a piece of furniture." Greg is humble and he is a storyteller.
What I found most restorative in this unique addiction, is the infectious relationships these personalities have made across the Midwest and how, like no other, it is their story they tell with each episode. The process of the client relationship, design, renovation and walk-through is an interior designer's fantasy that I am so happy to have found. Even if we see only the 'best' stuff filmed in the minutes captured on tape, I'll take it.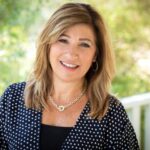 Michelle Rimler has a passion for creating beautiful and functional interior environments. She received an AA degree in Communications from the Fashion Institute of Design and Merchandising in 1987 and a Bachelor of Arts in Interior Design from the Academy of Art University of San Francisco in 2016. Michelle joined LGA in 2014. She has diverse industry experience and has engaged clients to develop and interpret business objectives into exciting visual concepts for over 25 years. She has been responsible for strategic visual planning, design and design development, branding, conceptual planning and project management. She serves on LGA's "Fun Committee" and has been actively engaged in the firm culture. Michelle has worked on all of LGA's projects since she joined the firm.