On Thursday, January 5, 2023, several members of the LGA team visited the St. John Neumann Roman Catholic Church in North Las Vegas for the groundbreaking of their new Church.
The ceremony began in the central room of the existing parish hall, and a special video message from the founding administrator, and subsequently the first pastor, of St. John Neumann Roman Catholic Church, Fr. Bede Wevita, was shared.
After the video message, everyone in attendance proceeded outside to the future site of the new Church altar. The rainy day didn't dampen the enthusiasm of everyone in attendance. Amongst the many umbrellas, shovels were passed out, the site blessed, and the ground was officially broken.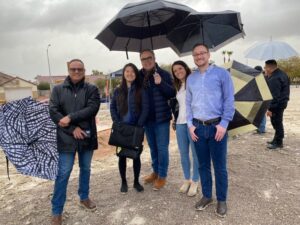 Reaching this point has truly been a journey for the community of St. John Neumann Roman Catholic Church, as their first Mass of 31 parishioners was celebrated on December 8, 1998. To assist in providing a permanent place of worship to this flourishing parish is something LGA is very proud of.
LGA's own technical director, Carlos Lausso, AIA, NCARB, is a parishioner of the church and as such feels connected to this project on a special level.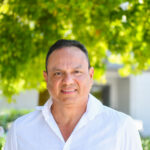 "My entire family has always been actively involved in our parish activities and have received the holy sacraments there. At LGA we always think about people and communities that will be using the buildings we design. This time was special – I was blessed because I could collaborate with my own church that we will all enjoy with pride."
It has been a pleasure to work with St. John Neumann to design their new Church and reach this milestone. We look forward to continuing to assist them with their mission to be Welcoming, Transformed and Generous.