The LGA Architecture team celebrated the groundbreaking for the Silverado Ranch Community Center on February 13, 2023.
Clark County Commissioner Michael Naft, whose district the community center is located in, gave his thanks to the many individuals who have helped progress the project to this point. Congresswoman Susie Lee and Clark County Commissioner Jim Gibson also shared their appreciation for everyone involved, as well as highlighted the importance of gathering spaces such as the Silverado Ranch Community Center.
This 37,000 square foot project will be a vehicle to engage the community in meaningful ways by creating both outdoor and indoor spaces to gather, providing a welcome relief from the bustle of the city, and serving to educate its visitors. It will consist of many amenities including basketball courts, multipurpose spaces, an indoor walking track, and an outdoor performance plaza.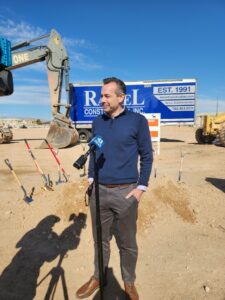 "This project contains all of the elements that LGA looks for when taking on a project- the incorporation of public art, engagement with the community throughout the process, and a design that pays tribute and fits into the surrounding natural landscape." said LGA Architecture Principal, Jason Jorjorian.
Commissioner Naft mentioned that many features of the Community Center were added as a direct result of the virtual community meetings held during the planning stage of the project. LGA discovered that many community members, including seniors, currently walk around the surrounding park which can be challenging due to the extreme summer months. The indoor track was added in direct response to involving the local community in the process.
Reaching this point is a major milestone for everyone involved in this project, and the LGA team couldn't be more excited to see the Silverado Ranch Community Center through to completion, as well as the positive impact it will have on community members of all ages and backgrounds.
The Silverado Ranch Community Center is expected to be completed in early 2024.